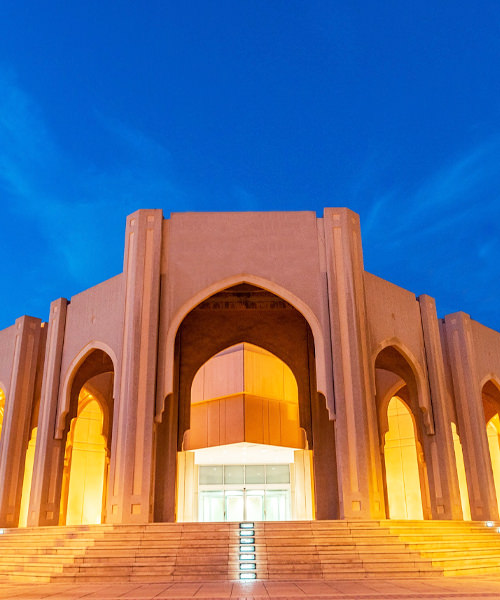 As Bahrain's first high-end shopping destinations, Al Aali Mall has set the gold standard Kingdom-wide for what a retail experience should be.
The elegant embodiment of Bahrain's rich cultural heritage and evolving urban scene, Al Aali Mall brings together everything you want in a retail destination: comfort, culture, and taste. Harmoniously blending Middle Eastern-inspired interiors with a chic, contemporary ambiance, our iconic architecture sets the tone for a truly unique shopping experience.
With a curated blend of luxury brands, one-of-a-kind boutiques, and a variety of inspired dining options, Al Aali Mall is the shopping experience you crave.
Al Aali Mall: A higher level of shopping.
The foundation of Haji Hassan Group began in the early 1950s with one man's belief and vision of an ever more changing future of the region. Armed with a sense of commitment, innovation, community, and responsibilities, the late Haji Hassan embarked on successive entrepreneurial ventures to contribute to building and supplying his modernizing homeland and the region.
From risking everything on new technologies such as the mass production of blocks to the willingness to pioneer in unchartered fields such as ready-mix and pre-casted concrete, and further to ensure that the corporate social responsibilities are never forgotten, Haji Hassan Group managed to carve its mark in the development projects in the Kingdom of Bahrain and beyond.
The unit that began with a small stone-crushing plant has grown to contain more than fifteen companies under its tail, including several joint ventures. The group companies and ventures range from construction-related products, manufacturing, real estate, hospital to owning their own shopping complex.
The core function of The Group remains to be in construction. HHG produces a range of products such as pipes, rubber, concrete and chemical mixes, asphalt, and concrete blocks. It also has constructed and developed one of the most elegant and sophisticated shopping mall to date, Al Aali Mall.
The beliefs in innovative solutions, quality products, and services, honesty and integrity in all dealings, and a vision of a bigger future remain as the values guiding Haji Hassan Group today. The greatest honor and privilege The Group has been in the bonds and partnerships it has built throughout the years with all components it has come across in the region.
ABOUT THE KINGDOM OF BAHRAIN
The Kingdom of Bahrain is an archipelago made up of 33 islands located in the Arabian Gulf between the Kingdom of Saudi Arabia and Qatar. Its total area is 780 km2.
Manama is the capital of Bahrain and also its largest city. Manama enjoys a distinct reputation as a tourism and cultural hub regionally and internationally, as shown by its selection as the Capital of Arab Culture in 2012, and Capital of Arab Tourism in 2013, and Capital of Asian Tourism in 2014.
Bahrain is a country that prides itself in being a thriving multi-cultural hub which welcomes people from all around the world, thanks to its tolerant attitudes, low cost of living, and abundance of educational and health facilities and services. According to the latest e-Government portal statistics, Bahrain's population is currently around 1.2 million Bahrainis and residents.
Bahrain is considered an important regional economic and financial hub, and is home to a large number of global financial services companies. The country also laid out a comprehensive and integrated economic vision which aims to make its economy more sustainable by the year 2030.
The earliest human settlement in Bahrain's islands dates back almost 4,000 years. Over that time, it was inhabited by a series of different civilizations, starting with Dilmun, then Tylos, and finally the Islamic period.